Are you working hard on your website and still not getting visitors?
It would help if you gave email marketing a try. Email marketing is proven to be one of the best ways to promote your website since its launch in 1990.
In fact, according to statistics, email marketing accrues $42 in return for every $1 you spend.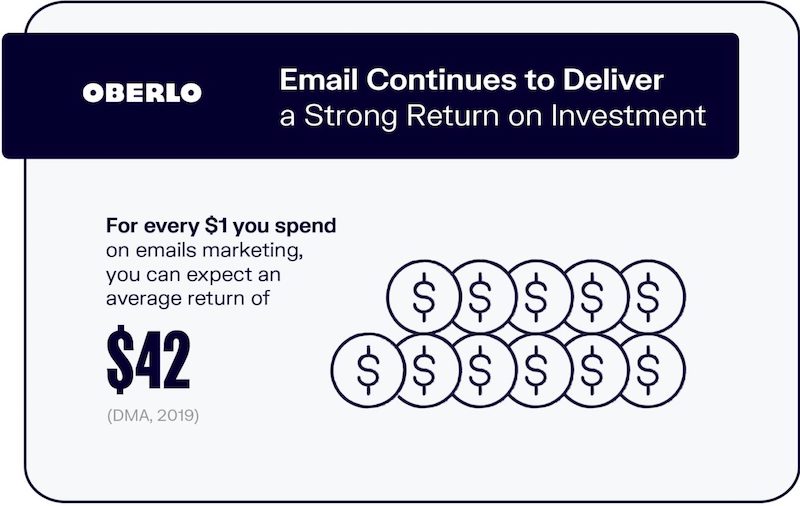 Email marketing also lets you send commercial messages through email to those who care, which helps you generate more leads.
Additionally, you can send advertisements, solicit sales, request for donations, newsletters, etc. to your customers.
However, the entire process can be a bit overwhelming!
The good news is that there are tons of automated email marketing tools out there assist you and make the process seamless.
To help you out, I reviewed 11 best email marketing software.
Best Email Marketing Software.
Choose any one of the best email marketing software from the list below: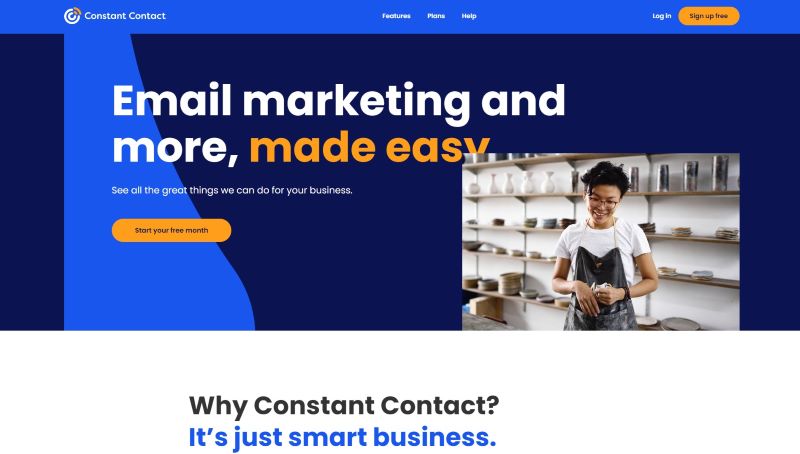 Constant Contact is an email marketing tool that lets you send surveys, polls, donations, sign up forms, events, etc. via emails.
Its drag-and-drop editor lets you customize or even design emails that are compatible with all types of devices.
Plus, Email marketing automation helps you:
Send welcome and triggered emails
Segment your contacts
Send follow-up emails
Build your email list
Moreover, you can track your results in real-time to improve your mistakes and provide a better customer experience. The real-time email tracking tools help you monitor aspects like open-rate, with whom they shared your email, etc.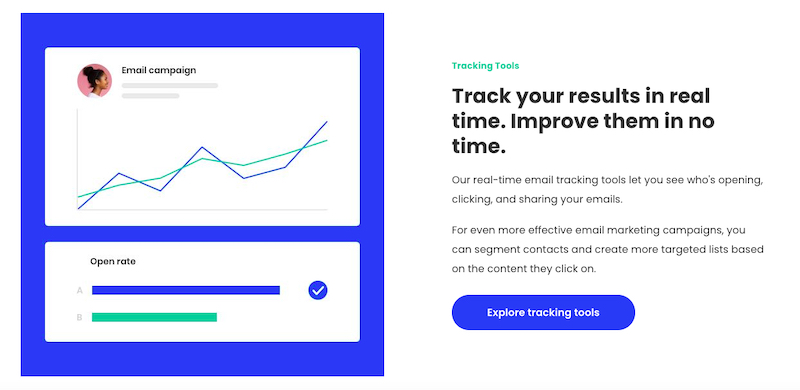 Constant Contact also integrates with tools like Excel, Outlook, Salesforce to help you create and manage your email list. Not only this, but you can also add people to the list directly from your contacts, social media, website, and more.
Plus, you can start Facebook and Instagram ad campaigns to gain more visitors. Also, view your campaign performance with in-depth statistics and graphs.
Key Features:
Send unlimited emails
In-built logo maker
Free SSL Certificate
List segmentation
Get online donations with Constant Contact
Conduct Surveys to get feedback from your customers to improve your service
Design and customize email templates
Track your Instagram and Facebook ad campaigns
Pricing:
Email: $20/mo
Email Plus: $45/mo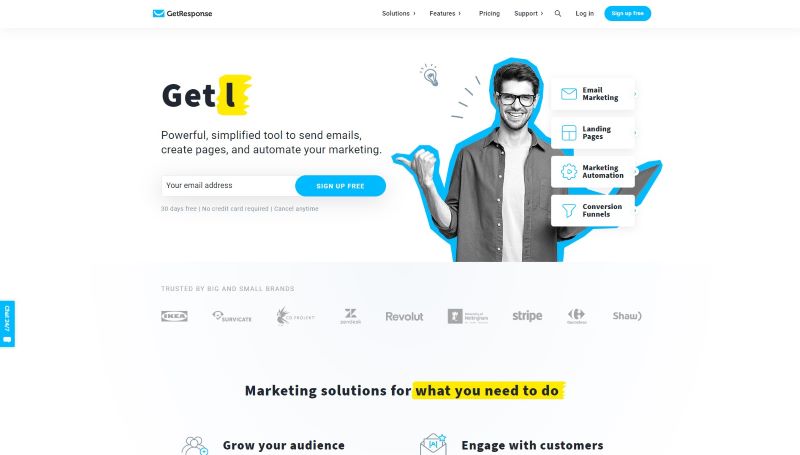 GetResponse is an email marketing tool that helps you boost sales and increase traffic via email marketing and autoresponders. You can even create and promote your ecommerce website or directly sell your products via email marketing.
Plus, it provides pre-designed email templates, design tools, and a drag-and-drop editor to create and send the right type of emails.
Here are some of the email types you can send:
Newsletters
Autoresponders to send automated follow-up emails
Trigger emails (after purchases, abandoned carts, website visits, etc.)
Blog digests
Segment-specific targeted emails
And more
Moreover, it curates subscriber information (at signup, purchase, or throughout the subscription lifecycle) to create personalized emails.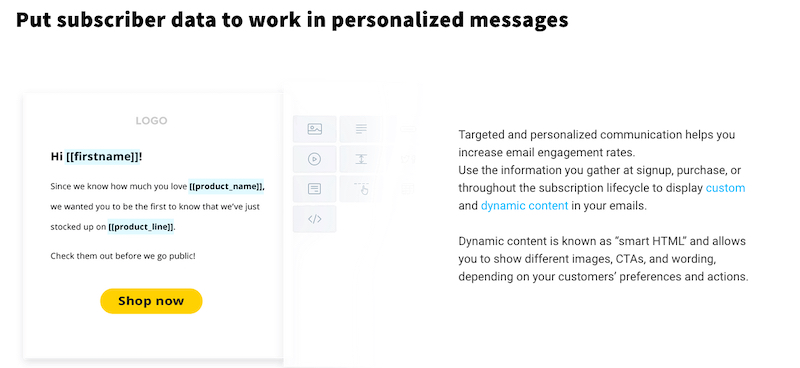 It provides integration with your PayPal, Stripe, or PayU accounts to sell products directly from your landing page. It also integrates with analytical tools like Google Analytics to analyze your email marketing stats.
Key Features:
Choose from 220 customizable email templates and 5,000 licensed images from Shutterstock
Run ad campaigns on Facebook and Instagram
Send up to unlimited emails
Create Newsletters
Visual email editor
Inbox preview
Pricing:
GetResponse helps you choose your plans according to the contact list size.
Basic: $15/mo
Plus: $49/mo
Professional: $99/mo
It also provides a 30-days free trial without any credit card details. You can also cancel your free trial any time you want.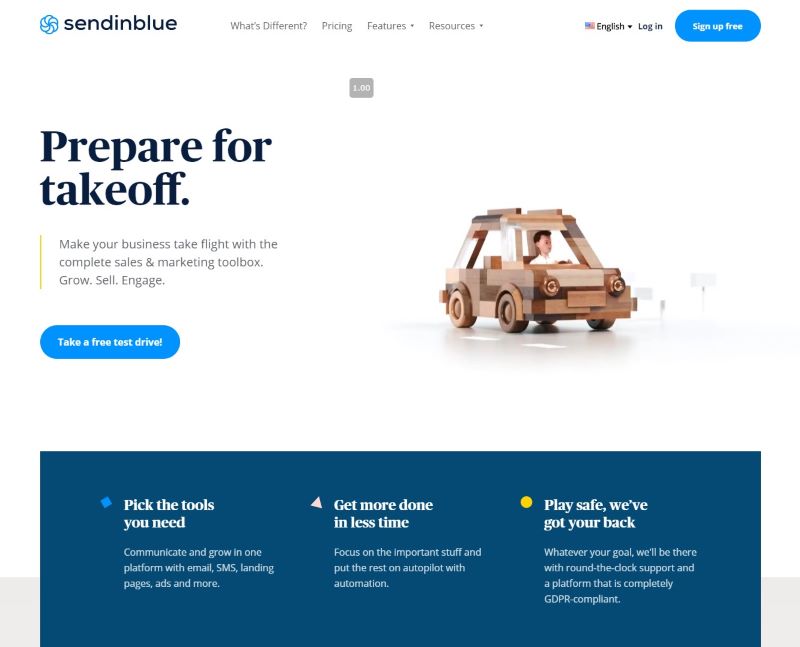 Sendinblue is an all-in-one marketing platform that helps you promote your brand with pre-designed email templates.
One of the main factors that affect email marketing's performance is the design of the email. Sendinblue helps you create proffesional looking emails with the help of 100s of email templates. You can even customize them using a drag-and-drop editor to suit your needs.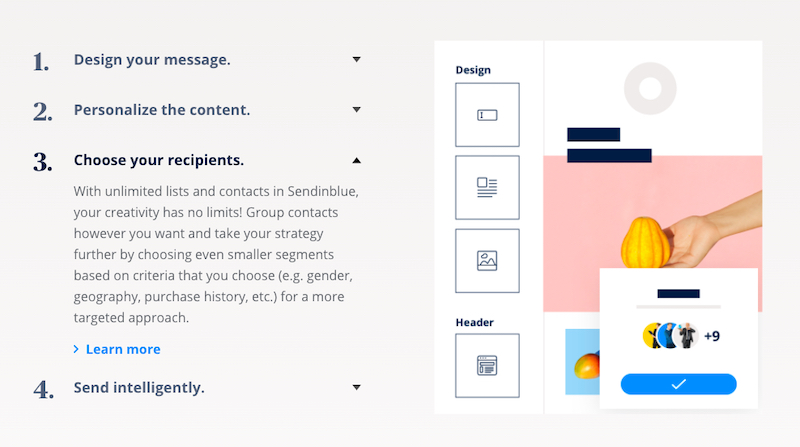 If you have something else in mind, simply build your own template from the scratch.
Plus, there's no limit for contacts – you can send to as many contacts as you want.
It also lets you segment your email list. Segmenting your contact list into smaller groups of contacts with similar characteristics lets you tailor email content.
What's more, Sendinblue A/B tests your emails to ensure that they get clicked by your target audience.
Plus, it makes sure that you are sending the email at the right time.
Sending emails at the right time increases your subscribers' chances of opening the emails. If you send emails at the wrong time, they might trash your email right away. Thus, their AI-based algorithms send emails to your subscribers after analyzing their daily schedule.
Key Features:
Mobile-friendly email designs, landing pages, and Signup forms
No daily sending limit
Send time optimization
SMS marketing
Email list segmentation
CRM integration
Facebook ads
Chat support
In-depth analytics reports with real-time stats, open and click-through rates, etc.
Extensive integration with third-party plugins
A/B Testing: A/B test email subject lines and content to optimize email campaigns.
Pricing:
Sendinblue provides four pricing plans:
Free: $0/mo (Up to 300 emails per day)
Lite: $25/mo (Up to 100,000 emails)
Premium: $65/mo (Up to 1,000,000 emails)
Enterprise: Quote-Based (Custom volume of emails)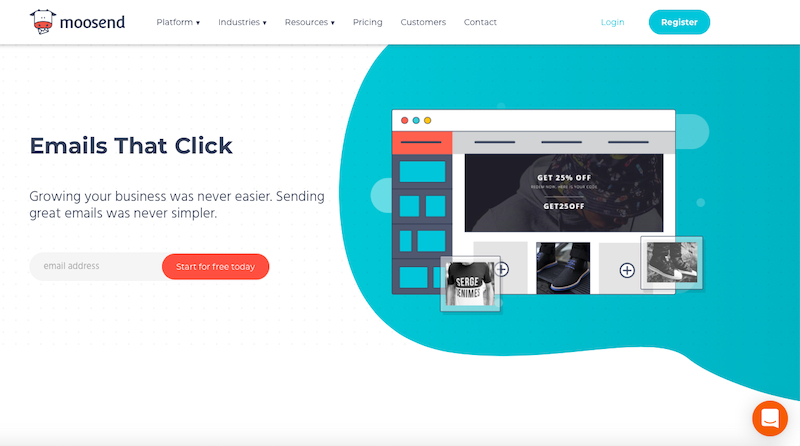 Moosend is a London-based, all-in-one email marketing platform. They help you manage your mailing list, create and send your newsletters. Plus, you can track your results and statistics to make better decisions.
What's more, you get a drag-and-drop editor to create designs without any technical know-how. It also comes with over 70+ free email newsletter templates. You can customize and design them precisely the way you want.
Not only this, but they also provide separate mobile editors so that your landing page gets optimized for mobile phones.
Here, the advanced personalization also comes in handy! It helps you send automated personalized emails based on your customers' past behavior (like cart abandonment emails).
Then there's the segmentation feature. They make numerous combinations based on your customers' behavior to filter your subscribers accordingly.
Moreover, get data analytics reports by tracking key metrics like the open rate, click, social shares, and unsubscribes. This helps you build effective strategies and maximize engagement.
Moosend also provides extensive customer support via live chat, webinars, and video tutorials.
Key Features:
Sign up and subscription forms
Popup forms
A/B Testing
Spam analysis
Real-time analytics and reporting
100+ integrations
Top-class customer support over Email, Chat, and phone
API Access (Application Programming Interface)
Get priority support in the enterprise plan
SMTP Server (Simple Mail Transfer Protocol)
Pricing:
Moosend helps you choose your plans according to the contact list size.
Here are the prices for an email list of up to 1000 subscribers:
Free: $0/mo
Pro: $8/mo
Enterprise: Custom Plan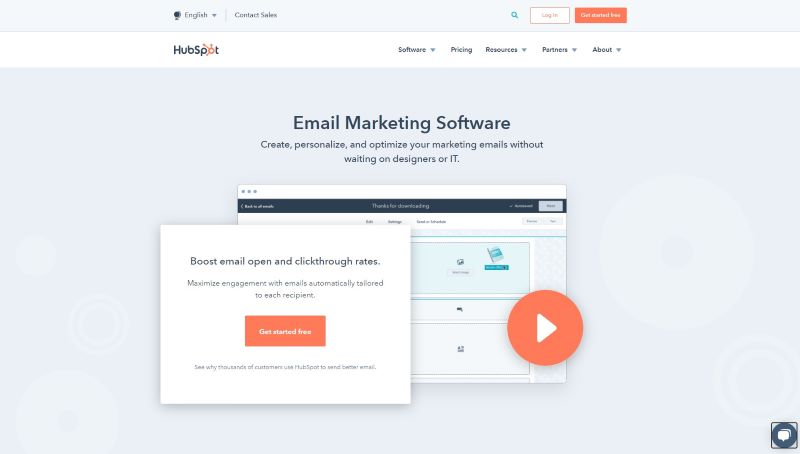 Hubspot is an all-in-one email marketing platform that lets you create, personalize, and optimize your email newsletters.
One of its key features includes robust analytics and tracking. HubSpot tracks and gives an insight into your entire customers' journey. The analytical tools also help you discern which marketing effort or channel is working the best.
Moreover, the drag-and-drop editor and highly customizable pre-designed templates let you create emails quickly.
You can also run A/B tests to improve clickthroughs and open-rates. This will ensure that your emails get delivered to the subscriber at the optimal time – increasing your conversion rates.
Key Features:
List Segmentation
Live Chat
Design CTA (call-to-action) buttons to increase open-rates & click-through rates
Forms – Email form helps you to collect information from your subscribers.
Create impressive landing pages
Team email
SEO Optimization and recommendation
Standard SSL Certificate
Connect up to 300 accounts
A/B Testing
Messenger Integration
Pricing:
Free: $0/mo
Starter: $40/mo
Professional: $800/mo
Enterprise: $3200/mo
They also provide a special plan for beginners that comes with all the essential features and helps to grow your site. It's called the Starter Growth Suite and costs $50/mo.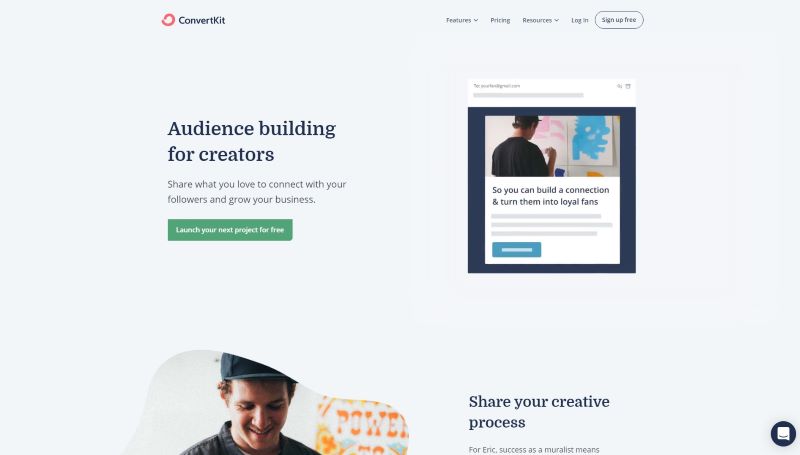 ConvertKit is one of the best email marketing software that provides full-featured email marketing services. They help you save your time so that you have to spend less time on marketing and more on creating.
For starters, you get pre-designed email templates and customizable landing pages to share your ideas.
They also help you create a sales page and add a 'buy now' button to your site. These features help you deliver your products and automate your sales process.
ConvertKit also lets you embed special discounts or offers with your emails to get more permanent readers. For instance, you can provide your viewers with free ebooks in exchange for their email address.
Other than this, they help you migrate to their platform for free. This is a helpful feature if you are facing any problem with your current email marketing service.
Additionally, ConvertKit conducts free live training workshops to help you become a successful creator and build an audience of engaged fans. Not only this, but you also get access to live workshops, on-Demand workshops, and technical tutorials.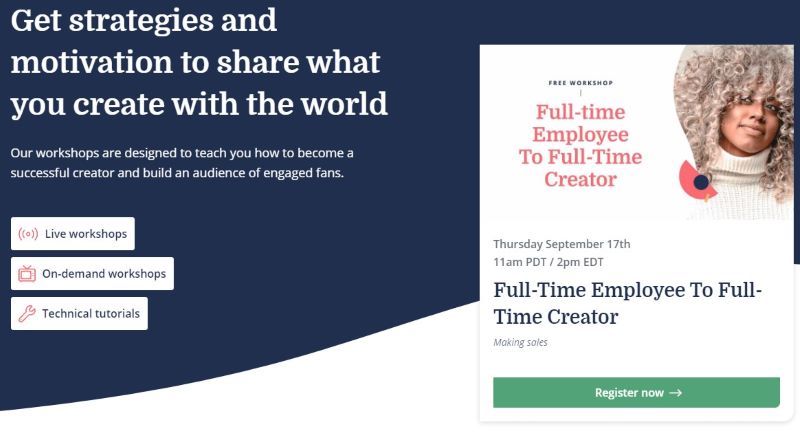 Key Features:
70+ Apps and services Integration
API Support
Email and Live chat support
Free Migration
Run Facebook, Google, and Instagram adds
Unlimited Traffic
Unlimited landing pages and forms
Free Courses
Automated funnels and email sequence
Pricing:
They help you choose your plans according to the contact list size.
The plans are as follows:
Free: $0/mo
Complete: $29/mo
ConvertKit also provides a 14-days free trial (No credit card required. Cancel any time).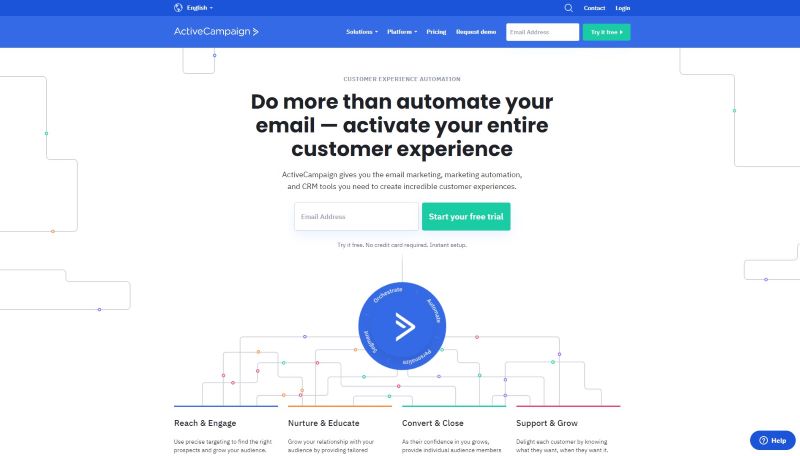 ActiveCampaign is a cloud-based software platform for small and medium-sized businesses. You get built-in tools for email marketing, sales, and CRM – under a single dashboard.
As for email marketing, it lets you send personalized emails and newsletters targeted to each contact's interest.
For example, you can schedule automated emails to be sent at a specific date and time – mostly on holidays, special events, birthdays, etc. This increases the chances of your subscriber opening the email.
ActiveCampaign also automates the whole process of Segmentation, Contact Management, Email Marketing.
The email autoresponder is another useful function. It helps you save a lot of time by sending out pre-scheduled welcome emails and newsletters.
For beginners, they also provide one-on-one training sessions and extensive support. Moreover, you get access to their library for tutorial videos and help guides.
Key Features:
Send Newsletters
Create Landing Pages
Built-in CRM
Drag and Drop email designer
Free Email Templates
Auto Responder
Unlimited Sending
Send SMS
Live chat and email-based support
One on one training sessions
Subscription forms
Unlimited users
Pricing:
Lite: $9/mo
Plus: $49/mo
Professional: $129/mo
Enterprise: $229/mo
You can choose your plans according to the contact list size.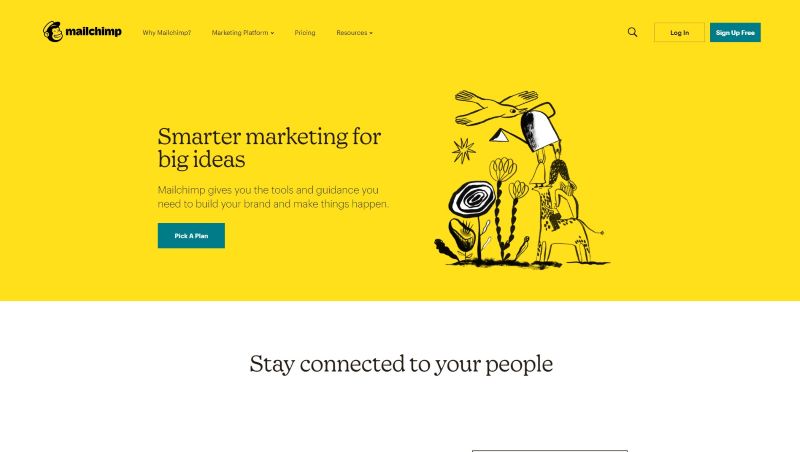 Unless you've been living under a rock, you'd know about MailChimp.
MailChimp is a popular all-in-one email marketing platform that helps you engage your clients and run attractive email campaigns.
It also provides highly-customisable editors to create sign-up forms, pop-ups, newsletters, landing pages, and more. You just have to drag and drop the eliments in the editor to create forms precisely the way you envisioned.
Here's a pop-up email opt-in form that I created with MailChimp's free plan – within a couple of minutes. Literally!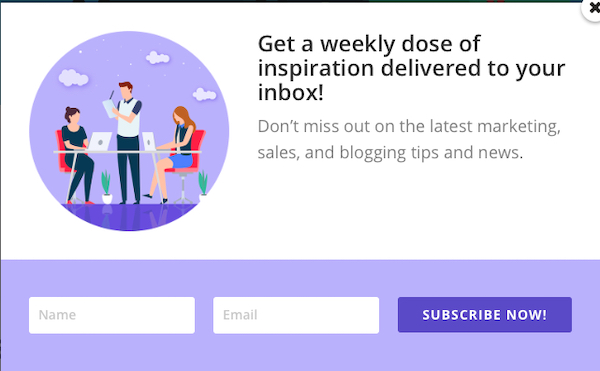 Another plus is that it doesn't require any coding. Also, you can translate your forms into over 50 languages.
Additionally, it lets you send surveys via emails so you can know what your audience thinks of your website or services. Once you get the survey results, you can improve your blog content, website design, services, etc.
What's more, MailChimp comes with a mobile app. Thus, you can reply to your customers or manage your email marketing anytime, anywhere from your mobile phone.
The easy-to-use mobile app is available on both Android and iOS.
Key Features:
Unlimited Audience
200,000+ contacts
Automatic Segmentation
MailChimp mobile app helps you create an engaging marketing campaign for your mobile phone.
Send surveys
Basic templates
Free MailChimp Domain
Run Facebook and Instagram ads
Create landing pages and popup forms
A/B Testing
Your emails are delivered by time zone
Integration with over 200+ apps
24/7 Email and Chat support along with phone support
Pricing:
Free: $0/mo
Essentials: $10.40/mo
Standard: $15.53/mo
Premium: $310.50/mo
They also help you choose your plans according to the contact list size, starting from $15.53/mo.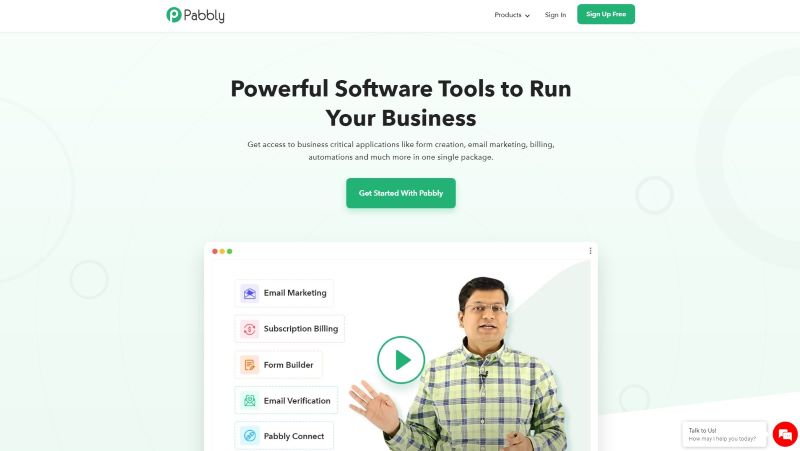 Pabbly is a digital marketing software primarily used by SaaS companies, subscription service providers, software sellers, etc.
Some of Pabbly's most prominent clients include Manipal Schools, Pearson, and more.
You can quickly design emails with an in-built email builder that provides drag and drop functionality. You also get ready-made templates that you can customize in the editor.
Once you start to run your campaigns, further track metrics like emails' open-rate and clicks-rate using the in-built stats trackers. These tools provide detailed stats that help you make better decisions and generate more leads.
What's more, it integrates with more than 300 applications, including YouTube, HubSpot, WordPress, Telegram, Zoom, and more.
Key Features:
Inbuilt SMTP Included
They claim to improve your open rate by 2x. You can send automated follow-up emails to non-opens.
Easily add a subscription form to your website.
Inbuilt email templates
Google Analytics Integration
Autoresponder (Automatically sends a welcome email when a new subscriber joins your email list).
Import Emails
List management
Pricing:
Pabbly claims that they help you save up to 70% on your email marketing bill.
This table compares the annual email marketing expenses of some of the top email marketing services with Pabbly.
Besides, they have 4 pricing plans:
Free: $0/mo
Rookie: $29/mo
Pro: $49/mo
Advance: $99/mo
You can choose any plan according to your subscribers count.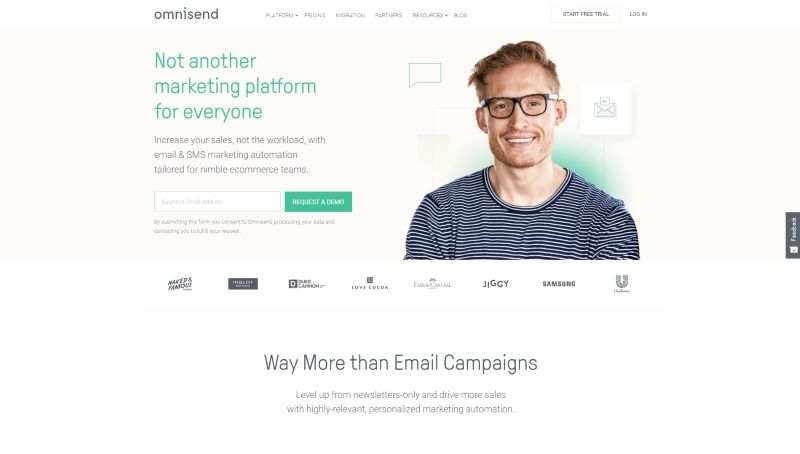 Omnisend helps you generate more leads by sending personalized emails to the right person at the right time.
Its unique selling point is that it helps you with SMS marketing along with running email campaigns.
Omnisend also segments your customers based on their shopping behavior. This feature helps you send emails only to those who care. The good is that you can achieve 62% higher conversation rate with such segmented campaigns (or so they claim).
Furthermore, it provides integration with hundreds of third-party apps. They provide a special library – where you can find any app according to your need.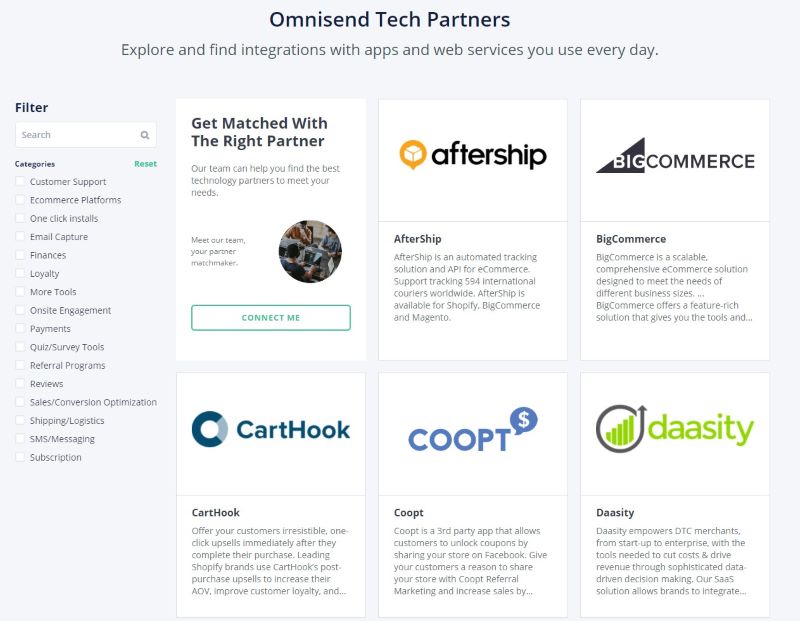 Not only this, but they also provide free migration support. In fact, they can help you migrate your email marketing service from your existing service provider to Omnisend in just 30 minutes.
Key Features:
SMS Support in all the plans except the free plan.
Messenger Integration
Email and SMS automation
A/B Split Testing
Segmentation
Landing page builder
Omnisend branding is optional in all the plans except in the free plan.
Signup boxes
Discount coupon code generator
Customizable Email Templates
Gift box and scratch card
Get customer feedback
Campaign Reports
24/7 Email and chat support
14-day free trial
Priority support in Pro and Enterprise version
Pricing:
They provide 4 plans starting:
Free: $0/mo
Standard: $16/mo
Pro: $99/mo
Enterprise: Quote-Based
You also get a 14-days free trial (No credit card required).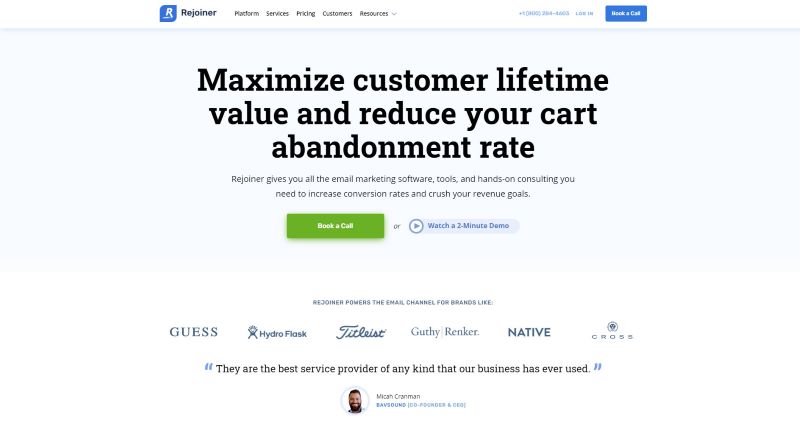 Rejoiner is an email marketing software that helps you improve your conversion rate and reduce cart abandonment rate.
It provides centralized customer data – which combines your customers' browsing behavior, purchase history, marketing interactions, in-store, and other statistics. You can run a much more personalized email campaign once armed with such valuable data metrics.
Helping you deliver emails at the best time is another plus point. This helps you reach your customers' inbox precisely when they're most likely to read their mails – thereby generating more leads.
Built-in triggers also help you deliver emails to customers at the opportune moments.
Additionally, Rejoiner helps you send emails regarding price drop, post-purchase, cart abandonment, browse abandonment, and birthday sends.
What's more, it segments your email list based on these following factors:
Browsing Behavior
Purchase History
Email Engagement
Tags
Recent and Frequency
And many more
Segmentation sure is a complicated process; made simple by Rejoiner. They automatically score each customer based on their purchasing and email engagement behavior.
Just like most tools on this list, Rejoiner also provides customizable email templates and a drag-and-drop editor. Moreover, the email templates are mobile-friendly and are designed in a way that makes them compatible with all types of devices.
Key Features:
A/B Control Group Testing
Channel Integration
Drag and drop email builder
Visual journey builder
Email Analytics
Integration with over 10 eCommerce platforms
Site analytics
Behavior tracking
Pricing:
Their plan starts from $95/mo and goes up to $1695/mo.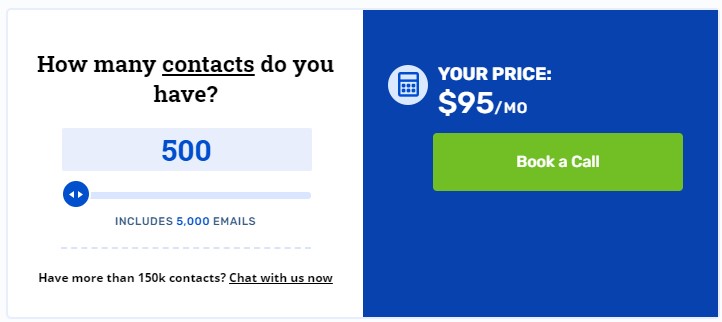 Best Email Marketing Software : Wrapping-Up.
So, these were some of the best email marketing software out there.
Good email marketing can do wonders for your overall promotion and marketing strategy.
But it can be challenging to keep up with all the tasks required to run a successful campaign, including lead generation, segmentation, creating attractive newsletters, etc.
And this is where these email marketing software come into play!
Choose any one of the email marketing tools listed after analyzing all their pros, key features, and pricing. And then finally, start promoting your brand today!
So, which one of these best email marketing software are you planning to take? Let me know in the comment section below!
You might also want to read: What Is Affiliate Marketing And Does It Work For My Business