If you want to provide excellent service to your visitors, you have to answer their queries quickly.
To do so, you have to give your visitors a facility of live chat.
In most of the surveys, it was found that people prefer websites having live chat facility.
In fact, Live chat accounts for a massive customer satisfaction rate at 92%.
If you are a beginner at blogging and don't have a passive income, you can start with free versions. Almost all live chat software offers a free version but with some limitations.
If you have made your mind for implementing live chat service on your website, here is a list of 7 software that provides you the best features at the best price.
Now let's get started.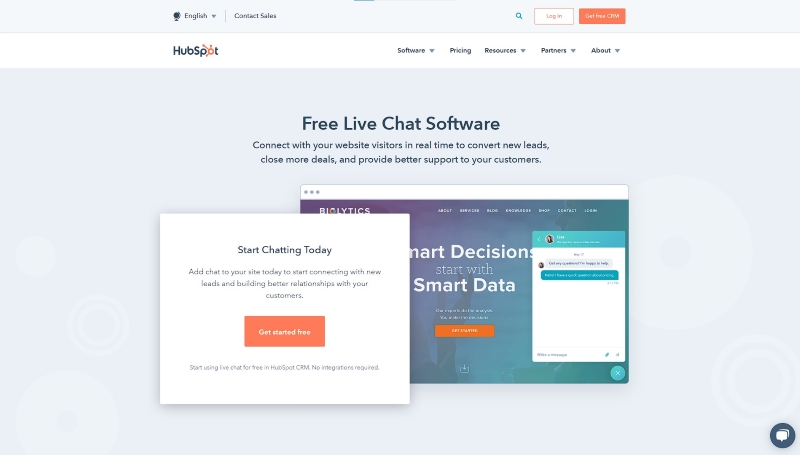 Hubspot provides a live chat tool fully integrated with a chatbot builder that you can start using for free without any coding experience.
Quickly customize your chatbox according to your site's look. If you are not comfortable designing the chatbox on your own, choose any one design from their library.
Not only this create targeted welcome messages for your website.
It becomes difficult for bloggers to reply to every visitor. To solve this problem, segment your audience so that you connect with those who matter.
All your conversations get saved in a universal inbox server. Their chatbot reply repeated questions on its own from the conversations inbox.
Build mobile optimized forms, banners, pop-ups to convert visitors into leads.
Run Facebook and Instagram ads to capture contact information and sync it with your HubSpot account.
Key Features.
A chatBot is available, chats with your customers when you are unavailable.
No coding required
All your chats get stored in the conversation inbox.
Use HubSpot's free Slack integration to get chat notifications and respond directly via Slack, or carry out conversations using the HubSpot mobile app.
Pricing.
It's free of cost.
LiveAgent is a live chat software that connects you with your customers using real-time chat, voice calls, emails, social media platforms, etc.
Now, you can learn about their software's new features and help desk from specialists. They conduct webinars in which you can learn to use the multi-channel help desk efficiently.
Also, you can form and customize your own contact group according to your need.
Their software saves your time by using some features like automated ticket distribution, hybrid ticket stream, time-tracking, and even service level agreement. Not only this, but you can also make the department responsible for ticket distribution and service representative.
The software provides business solutions using a multi-channel communicating platform. It has integration with apps like Facebook, Twitter, Google Analytics, Go Daddy, and much more.
It uses canned and predefined templates to help reply faster and drive full customer satisfaction.
Key features 
Ticketing: Contains data about the customer. The status of ticket is highlighted as new, closed, answered, open and postpone depending on the status of query.
Unlimited calls: Make and record as much calls as possible. No additional call recorder software is required. Recording is done for future records and safety.
Video chat: Allows you to communicate with colleagues as well as customers.
Real time chat: Connect and chat with customers in real time to increase conversion rates.
Facebook: Track the posts and respond to all of them via private messages and comments.
Twitter: Keep a check on tweets and mentions of your brand. Respond accordingly.
Interactive voice response: Directs customers towards expected department or agent to resolve the issue.
Pros 
Eases the process of communication and barres multiple agents to work on a single ticket.
Increased profits and 100% customer satisfaction.
The contact groups are easily customized according to customer requirements.
It can merge multiple tickets that display the same issues.
Pre-defined solutions to queries can be created and tickets can be exported in HTML and PDF formats.
Pricing
Free account with limited features: $0/agent/mo
Full-sized ticketing solution: $15/agent/mo
Ticket + Chat: $29/agent/mo
All-inclusive: $39/agent/mo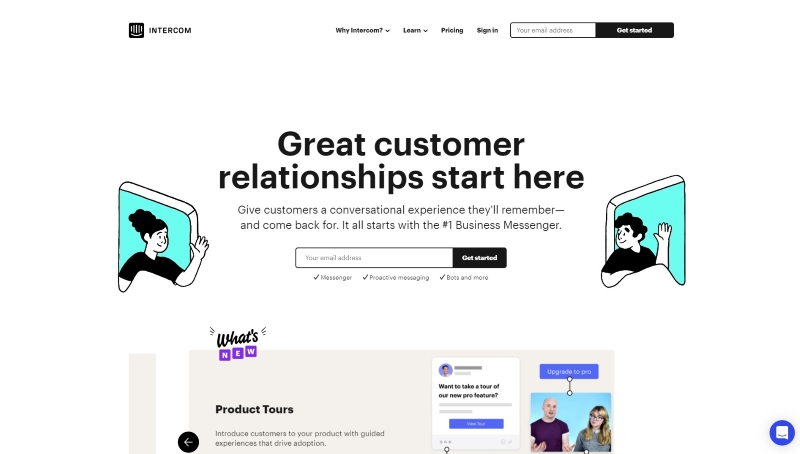 Intercom is a live chat platform that helps you acquire, engage, and support customers. Use live chats and bots to qualify and convert leads quickly.
The software provides personalized customer care and prioritizes urgent queries automatically. Also, with Intercom, you can conduct professional webinars for your visitors.
Plus, the resolution bot reduces the frequency of repetitive queries by 33%. The tools like Outbound messages, inform customers about scheduled outages.
You can build whatever you need using flexible APIs and webhooks. The software intends to convert maximum website landers into customers by re-engaging them through product tours and email campaigns. The sales and marketing are enhanced through real-time conversation, and website conversion is increased using chatbots. 
Key features:
Business messenger: It lets you chat in real time and converse across platforms with customers. The outbound messages get delivered on your website.
Product tours: The interactive guides help users to know more about the product. The products are introduced in a manner that it helps customers to take an action.
Live chat: Engaging with customers through personalized chats enhances sales and boosts productivity. Modern live chats and customization according to devices aid in driving more revenue.
Help center articles: It helps to create multilingual engaging articles to resolve queries raised by customers. Interactive guides can be created using images and videos.
Pros:
Customizable bots present pre-planned questions and take the conversation further. Thus, saves time and energy of team
Multi-platform tracking of customers to target them.
Grouping of customers into live segments based on their attributes.
Automated carousel messages to initiate the conversation.
Account based approach to enhance trial conversations and customer onboarding.
Pricing
The following packages are available:
Essential – $87/mo
Pro – $153/mo
Premium – Custom pricing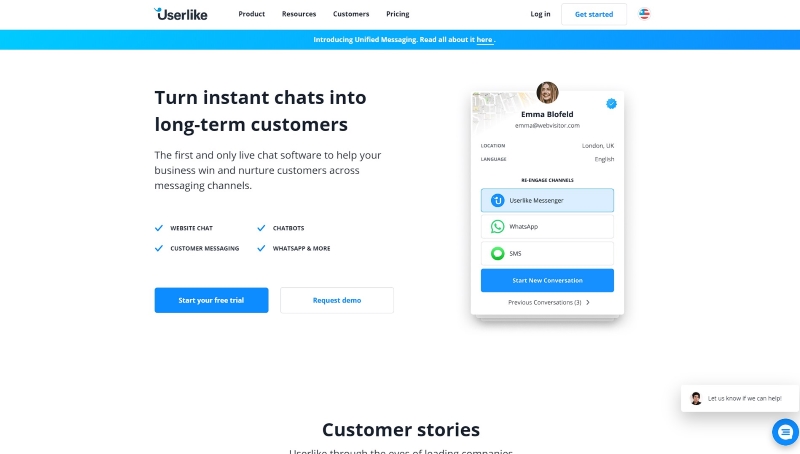 Userlike is a live chat platform that helps in business growth using chatbots, website chat, WhatsApp, and more.
Their website messenger makes the transfer of media files smooth. Also, their application supports voice messaging features and long-term conversations.
The Message Centre is the hub of all customer queries. The messaged will automatically land here. All the customer service chats are carried out here only. Canned messages and auto-translations make the process of communicating easier. It offers full data security and privacy to the customers.
Userlike provides multi-channel support to its customers and can even organize a counseling session with an experienced service team. Apart from this, assistance through phone calls is always possible.
Key features
Operator groups: It allows customers to select the department that can solve their query quickly and prevents users from waiting.
All-inclusive button integration: This feature acts as a subtle support reminder and prevents users from finding contact options.
Proactive chat: The team tries to connect with website visitors proactively. The customers can clear their doubts using this feature.
CRM Integration: The chats can be transferred to a CRM tool to get a follow up on valuable leads.
Registration form: Getting customers to fill up a registration form prior to a chat session helps in getting the primary details about the customer.
Pros
On-page guidance helps customers to reach their specific targets.
The success rate of chat service can be tracked when customers start reaching specified URLs.
Set up the number of chat slots to communicate with multiple customers at a time.
Chat analytics displays quality improvement.
Widget routers can be used to optimize the chat system.
Pricing
Following plans are available:
Free – $0/month with 1 operator and 1 widget
Team – $29/month with 3 operators, 3 widgets and 1 channel
Corporate – $99/month with 5 operators, 5 widgets and 3 channels
Business – $299/month with 10 operators, 10 widgets and 5 channels
Flex – It provides unlimited operators, widgets and channels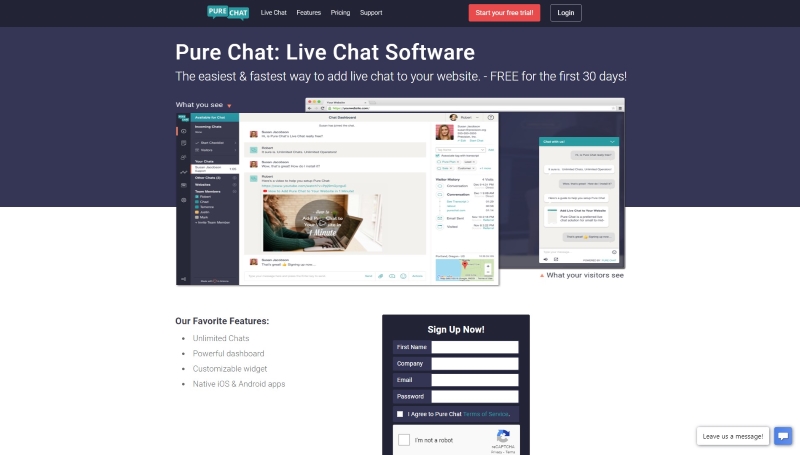 Purechat is a live chat software that allows you to add live chats to your website. It has a powerful dashboard and a customizable widget. It provides you unlimited chats and increase engagement with your customers. You will be required to use the snippet of code after signing up on Purechat to install it on your website. Once this is done, you can continue your chatting by customizing the chat widget.
There are also Purechat iOS and Android apps for interacting with users on mobile. The software offers transparency and adds value to your website by turning visitors into customers. It provides 30-day money back guarantee if you does not feel like using it.
You can connect Purechat with the applications of your choice like Google Analytics, HubSpot, Zapier and Infusionsoft.
Key features
Integrations – This feature lets you boost your sales and marketing skills by connecting the software with your favorite apps.
Visitor analytics – This feature helps in keeping a track of traffic trends and marketing campaigns. It can be used for further improvements.
Contact history – It prevents the customer from repeating himself. You can easily check what issues were reported before and whether they have been resolved or not.
Canned messages – These messages save the time of agents. These are a set of pre-planned answers to some general queries of customers.
Easy file transfer – It helps in smooth transfer of files in the chat box.
Pros
Realtime analytics help in growth of business.
Trigger based chats and visitor alerts result in enhanced sales.
SMS and chat notifications make you stay alert every time and respond to customer queries.
It can save unlimited chat history transcripts to keep a record.
Pricing
The plans are as follows:
Growth – The price to be paid is $39/mo. Operators need to pay additional $13/mo. In this plan, 4 operators, 1 max website and 100 SMS notifications are included.
Pro – The price to be paid is $79/mo. Additional users need to pay $8/mo. In this plan, unlimited max websites, 10 operators and 1000 SMS notifications are included.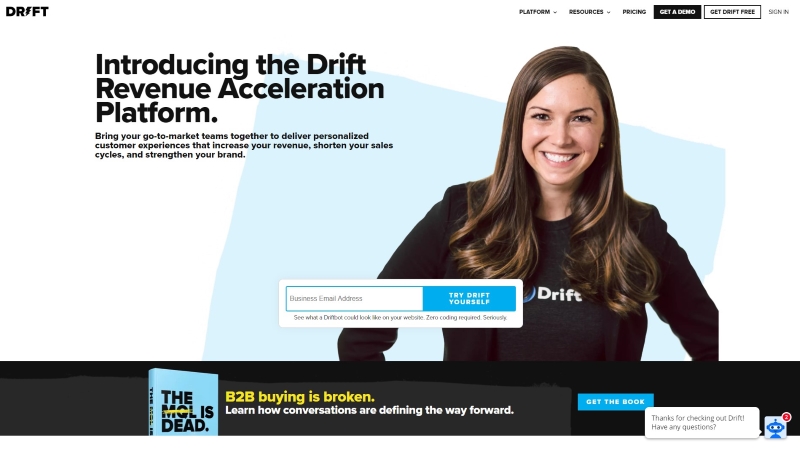 Drift claims that sites using their service have increased website chat engagement by 300%, Cut their response time by 4500%, and increased live chat leads volume by 625%.
Key features.
Customize bots according to your needs so that you can provide the best services to your visitors.
You can route chat leads to the right person.
Send InMail via Linkedin Sales Navigator
You can easily switch to a call from a live chat with just a click of a button.
Block IP of any user of your choice
24/7 technical support
Pricing.
Free(Many Limitations)
Essential: $400/month billed annually & $40/mo
Premium: $1,500/month billed annually & $80/mo
Custom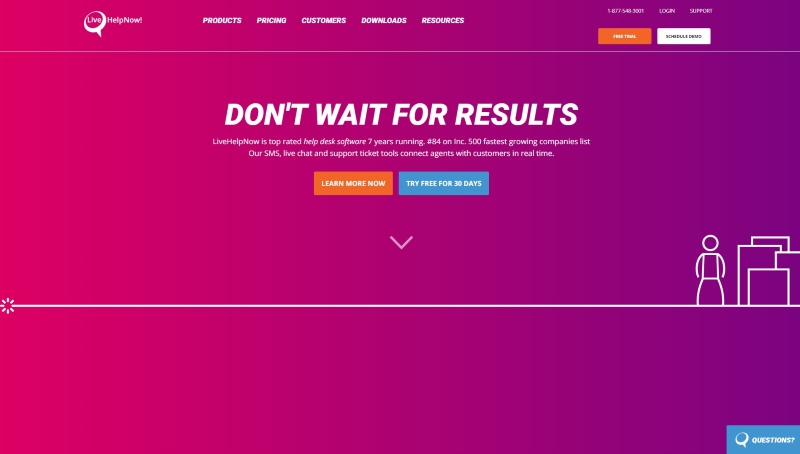 This software provides you some features that others lack, such as it automatically translates any language in your preferred language in real-time.
LiveHelpNow focuses more on your and your visitor's privacy. Due to this, it is trusted by the US navy, US Army, US costal guard, barracuda networks, and many other trusted sources for whom privacy matters the most if these can trust LiveHelpNow than you can blindfold trust them on your privacy.
Key features.
See every footstep of your visitors in real-time.
You can gather information about your customers, which will help you with additional marketing.
Shows promotional messages or banners to your visitors while they are chatting with any sales representative.
Now you can chat with your customers through SMS
You can easily transfer the chat to any other department or another agent.
Not only chatting, but you can also contact your visitors through voice calls or video calls.
Pricing.
The pricing starts from $9/mo/agent up to $21/mo/agent.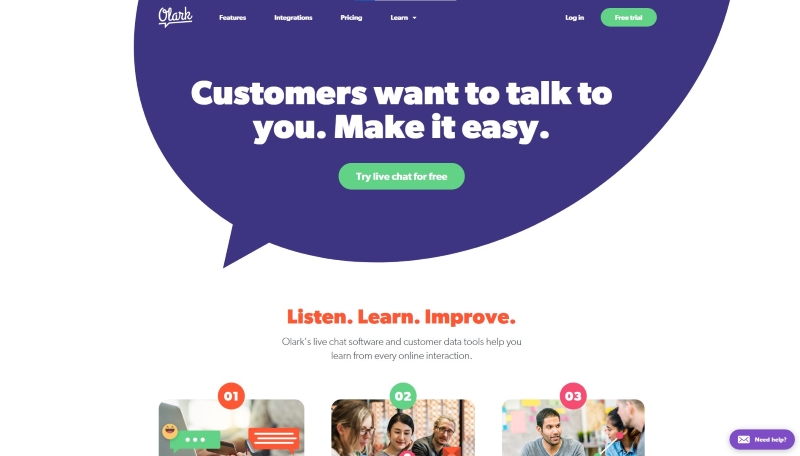 Olark helps you to design your sales and support team with the help of a powerful context prepared after collecting information from your visitors. It receives feedback; not only this it asks for everything such as name, email, problem, etc., before the chat starts to save your time. It directs the users to the most favorable sales representative.
Key features.
Design your chat box according to your site
They save your time by the auto replying for some repeated questions
They provide you with all the stats such as customer satisfaction, support representative's activity and many more
You can design the chatbox form according to your needs and choice
If you have a larger team than Olark helps you to distribute the work between them and monitor their performance
Pricing.
Their prices vary with the time period for which you take their service.
Monthly: $19/mo/agent
Yearly: $15/mo/agent
2 Year: $12/mo/agent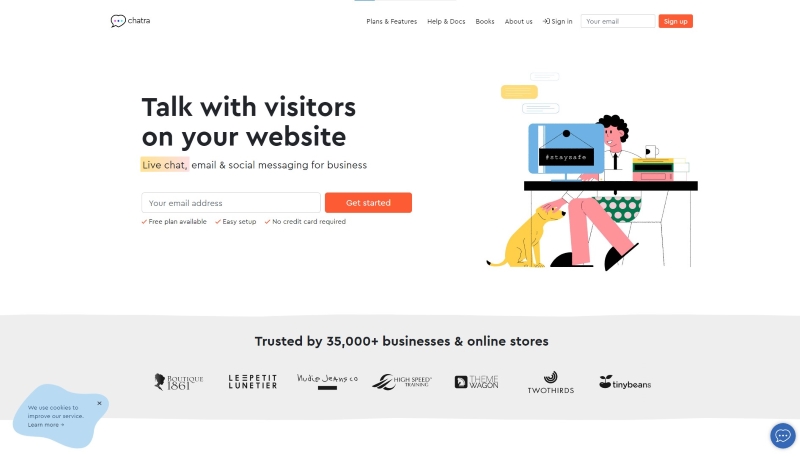 Now you can manage all your messages from one place with the help of Chatra. Connect with all your social media handles and reply to your inbox for any social media platform from one place.
Key features.
Chatra helps you boost your sales
Use ChatBots to reply to some of the repeated questions
From Chatra's mobile app you can reply to your customers from any place and any time
They have uploaded 10s of books and guides to help your make your customer happy and boost your sales
SSL Encryption is also provided
Integrate with Slack
You can share your screen with your visitors or customers
Pricing.
Free(Many Limitations)
Pro: $15/mo/agent
SnapEngage gives you an exceptional experience with many integrations and bots. Using their conversation platform, your sales team will efficiently interact with your customers and can sell more and more products.
Key features.
SnapEngage virtually trains your sales team
Design the chatbox of your choice
24/7 Customer Support
End to End Encryption
Connect with Facebook, Twitter, WeChat, SMS from one place
Info capture bot is also available
Pricing.
Essentials: $16/mo
Professional: $26/mo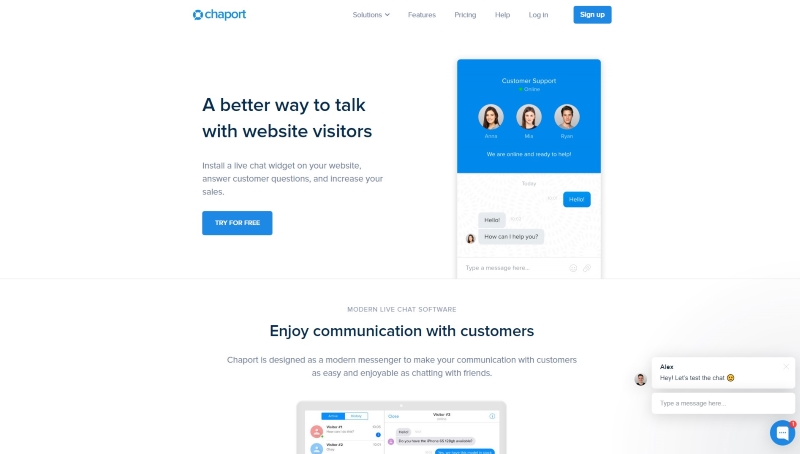 Chaport makes your chatting experience very easy, and you will feel as if you are chatting with your friends. They send automatic chat invitations to get more and more customers.
Key features.
Chaport lets you contact with your customers through live chat, Telegram, Facebook and Viber at one place
Auto invite your customers through chat invitation
Transfer chat with colleagues
From their mobile apps talk to your customers from anywhere at anytime
Connect Chatport with 2000+ apps
Read visitors message even before they are sent so that you can reply to them as fast as possible
Pricing.
Free(Many Limitations)
Pro: $9.80/mo/operator
Zoho gives you and your agents some of the best tools that will help you to help your customers. they automate some of the frequent tasks that save a lot of time.
Key features.
You can connect with your customers on any channel, and they give you multichannel support
Design the help desk by your choice
You can communicate through a live phone call as well
Using artificial intelligence, they have created a character Zia that gives your customers relevant solutions to their problem
You can train Zia according to your needs
Pricing.
Plans starts from $18/mo/agent.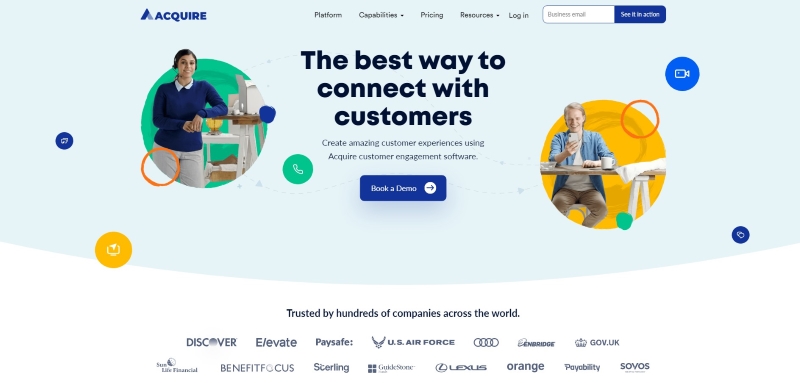 With 50+ integrations, you will be able to communicate with your visitors on any platform out there except few. Manage all your chats from one timeline, whether it be on any platform.
Key features.
Contact with your customers through live video call, SMS, voice call
Screen share feature is also available
Communicate through email as well
Chat-bots answers repeated question on its own, which helps you save your time
Improve your service with different stats
Pricing.
Pricing starts from $40/mo/agent.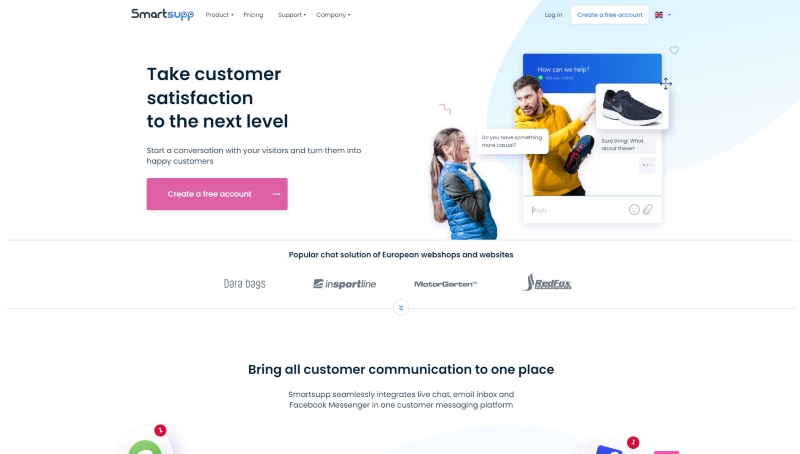 Smartsupp claims that they convert every 4th visitor on your site into a customer. Not only this, but they also claim that they increase visitor engagement by three times.
Key features.
Communicate with all your visitors in one place
Customize your chatbox according to your choice
Get an overview of your customers using their well-designed dashboard
Chat with customers on the go using their mobile app available o both android and ios
Out of the box integration also available
Pricing.
Free(Many Limitations)
Standard: $10/mo for 3 agents
Pro: $19/mo/operator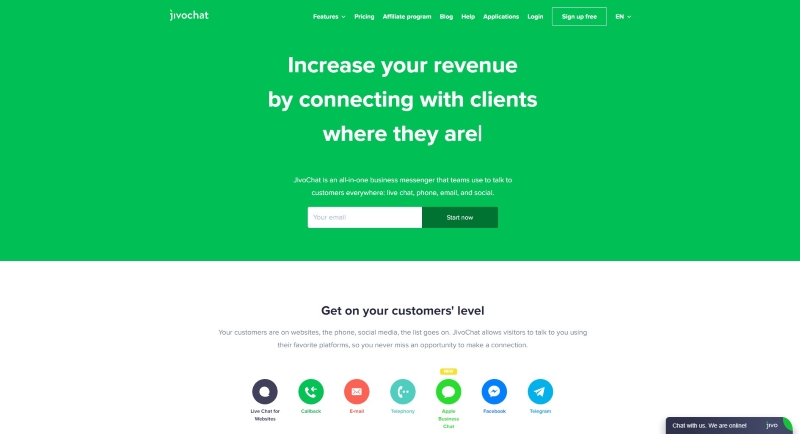 Jivochat allows you to chat with your visitors from one place. Your visitors can contact you from any platform such as Facebook, Twitter, and many more.
Key features.
There are 100s of chatbox templates, and you can choose any one of them for your website.
Live chat feature works on every device, whether it be ios, android, macOS, or Windows.
The translation feature is also available if your customer doesn't know your language, then he can write in his language, and Jivochat will automatically translate it to your language.
When your visitors are about to leave your website, Jivochat will send them a proactive invitation.
These days more and more customers come from the mobile phone, to give them the best experience your chat should be optimized for mobile phones. Jivochat optimizes your live chat for mobile phones so that all the mobile phone users don't face any problem
Pricing.
Free(Many Limitations)
Professional Version: $13/mo/agent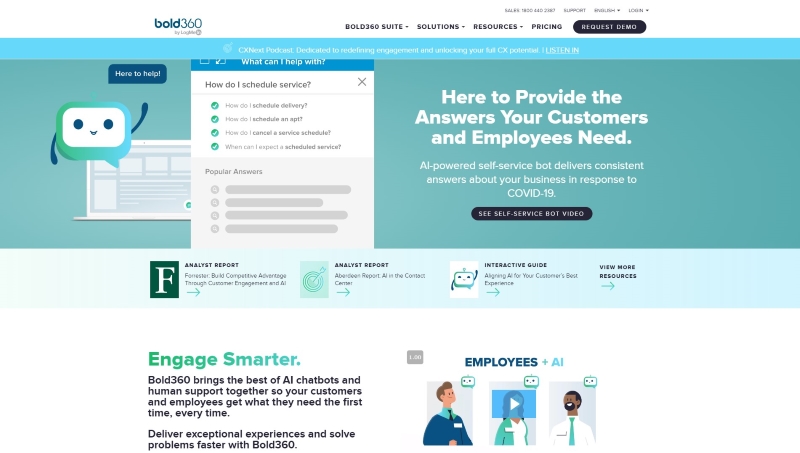 By Bold360's AI Chatbot give your customers the best support possible. In most of the surveys, it was found that people prefer sites that provide faster live chats, by the help of Bold360 you can sell more and more products.
Key features.
Zendesk Integration is available.
Google analytic is also connected with Bold 360 so that you see all the stats.
Chat with your customers with any platform, whether it be Email, SMS, Text Messaging, WeChat, and many more.
Get their app for mobile phones do that you can reply to your customers anytime, anywhere.
AI chatbots reply to your customers when you are not available any reply to some repeated questions.
They suggest your articles to your customers.
Chrome browser extension also available
Pricing.
Pricing is not provided.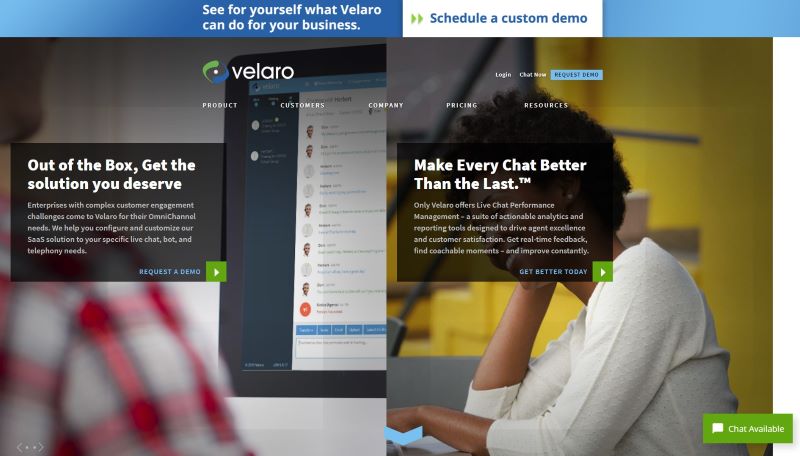 Velaro helps you improve your service every time you chat with your customers better than the last time. They provide you with different stats with the help you grow.
Key features.
Integration with almost all social media networks
You can give different roles to different agents
Agents survey is also taken from the customers to provide them with better support
Track your visitors in real-time
Google translate is also available so that you can contact with any person around the world without facing any language barrier
Pricing.
Small Business: $64.95/mo
Professional: $179.95/mo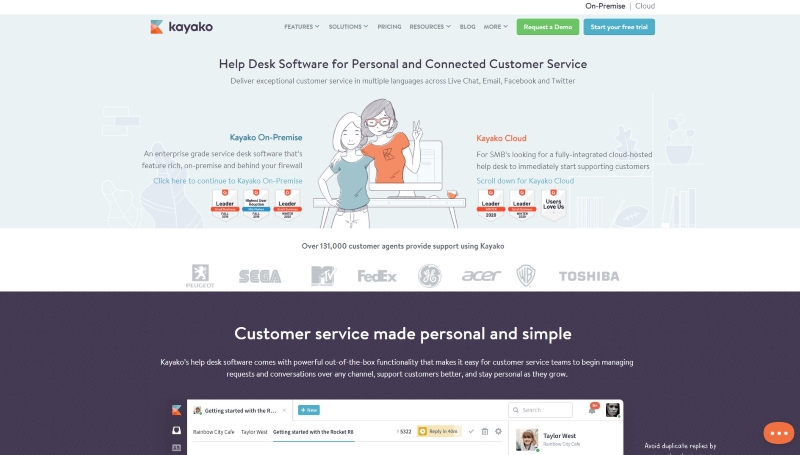 Kayako is a cloud-based platform that helps you live chat with your customers with various social media handles and your website.
Kayako's help desk is different from any other software; it gives you a complete picture of the customer's journeys so that you can easily guide him.
Key features.
Multichannel support is given, connect on up to 20 multi-channels
Make of team of up to 15 members
You will get to know your customer's journey which will help you to sell your product
Kayako offers over 30 languages so that you will never face any language barrier
Google analytics support is also available
Pricing.
Inbox: $15/mo
Growth: $30/mo
Scale: $60/mo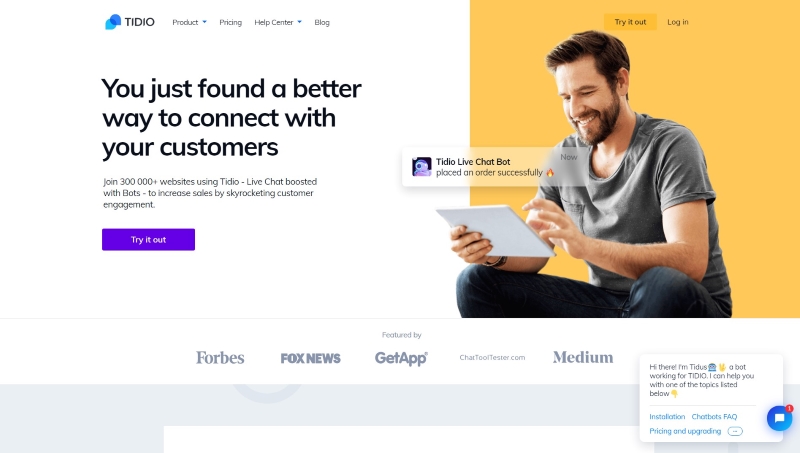 Tidio provides many features even in their free plan, which other software lack. They provide an element of up to 3 chat operators, which is not given even in paid plans by other software.
Even we are using Tidio for a very long time, and in all these years, we have never faced any problem. Their mobile application and dashboard are straightforward to use and make our work easier.
Key features.
They provide some of the best chatbox design templates so that your chatbox looks very attractive.
You can see live typing of your customer so that you can reply to them faster.
Apps for both mobile and desktop are available
Zapier Integration
Pricing.
Free(Many Limitations)
Chatbots: $18/mo
Communicator: $18/mo
Email Marketing: $10/mo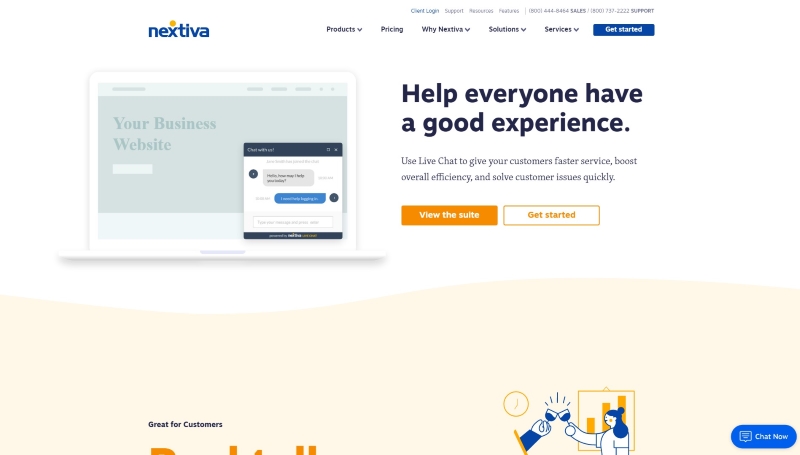 Nextiva helps you monitor all the chats with reports. They prepare reports after analyzing your website's visitors, agent's performance, and review transcripts.
Key features.
Their algorithm never make your customer repeat their queries
All the chats are saved
Your team can internally chat with each other which increases the quality of support and efficiency
You can set the time for live chat option
Screen sharing option also available
24X7 technical support available
Pricing.
Essential: $19.95/mo/user
Professional: $20.95/mo/user
Enterprise: $27.95/mo/user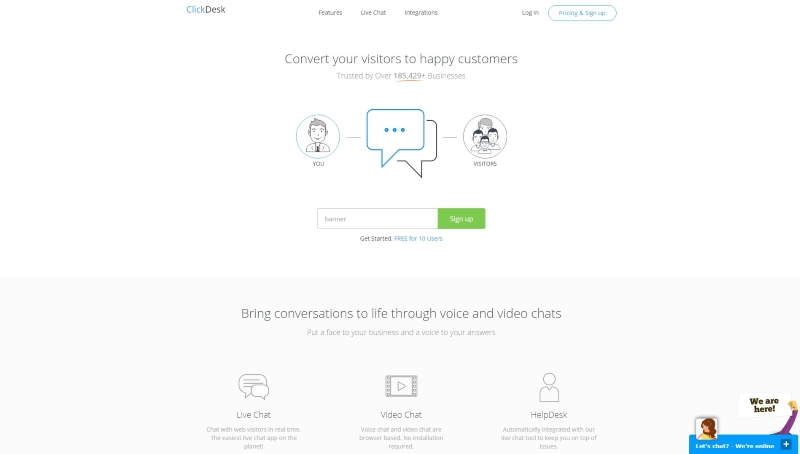 ClickDesk provides one of the best helpdesk software out there; you can manage all the things from one place. Integrate with all Social Media platforms to attract more and more customers.
Key features.
Transfer the chats between your team
99.5% uptime guarantee
SSL Security
Reports and history are provided by them
Queuing
Pricing.
Free(Many Limitations)
Lite: $14.99/mo
Pro: $24.99/mo
Enterprise: $39.99/mo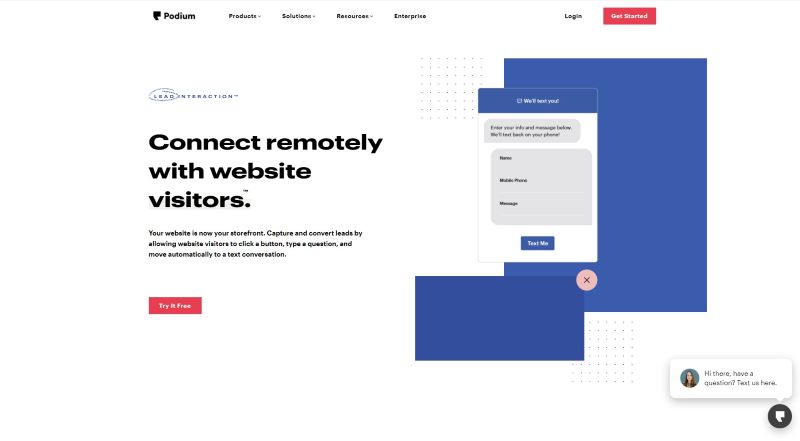 One of the main problems people face with live chat software is that it becomes difficult for them to analyze the visitor's stats, but the Podium has solved it. Integrate Podium with Google Analytics to get all the stats in one place.
Key Features:
Transfer conversations from one agent to another
Auto Responder helps you save your time
Integrate with google analytics to get detailed stats
With the help of leaderboard compare the performance of your agents
Customize your chatbox
Pricing:
The pricing starts from $399/mo.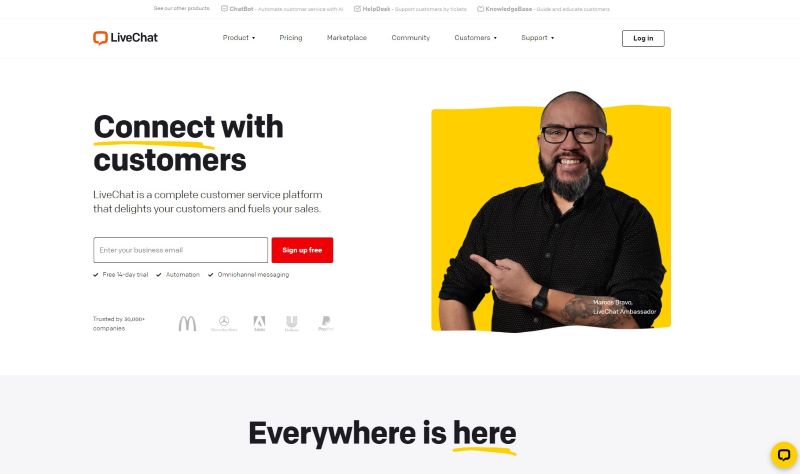 Balance AI robots and humans to give your customers the best performance, with the help of chatbot answer some of the repeated questions; this saves your agents a lot of time.
Key Features:
Integrate with 170+ tools
24/7 Technical support
14 days of a free trial
Connect with your customers through emails and phone as well
Multiple websites support also available
Pricing:
Starter: $16/mo
Team: $33/mo
Business: $50/mo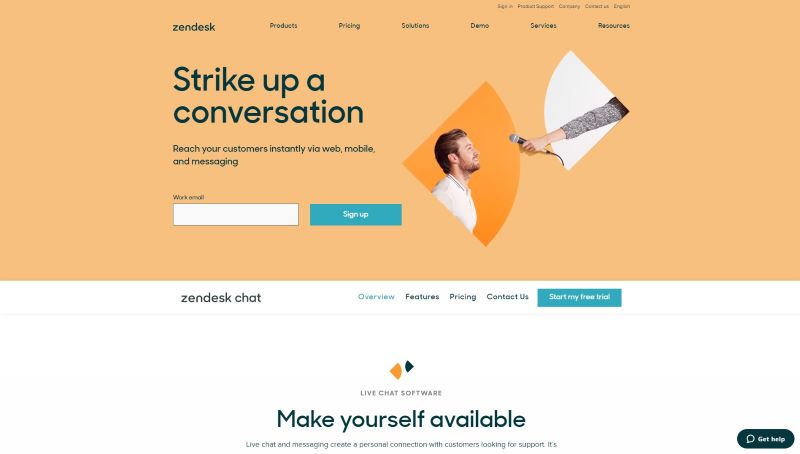 They store all your chat history safe and secure in their servers. From their easy to use dashboard get all the stats to analyze your live chat performance, not only this monitor the performance of your agents as well.
Key Features:
Get email report
Add up to unlimited agents
Get chat rating from your customers
Android and ios apps available
Send files as well
SSL Encryption
Pricing:
Lite: $0/mo
Team: $14/mo
Professional: $29/mo
Enterprise: $59/mo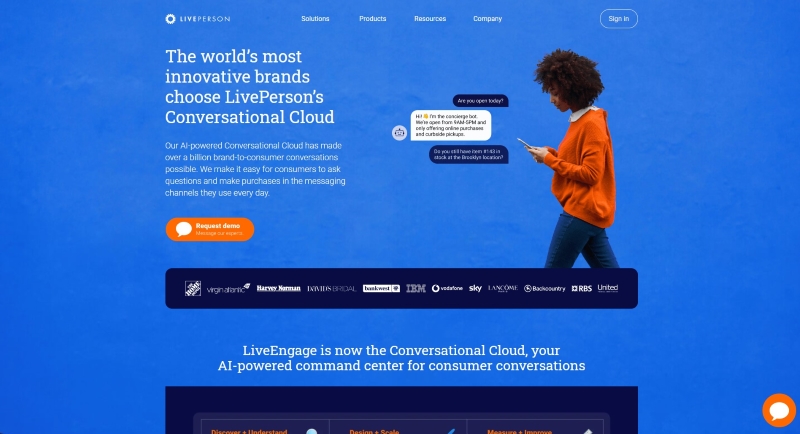 LivePerson helps your customers order products directly from the chatbox; not only this, they can get all the information about the products, and they can also track their order from the chatbox.
Key Features:
Connect with customers through 3rd party apps such as Whatsapp, Messenger and many more
Monitor your chat stats
Chat with your customers through mobile appplications
Pricing:
Standard – $40/agent/mo
Premier – $90/agent/mo
Enterprise – Quote-based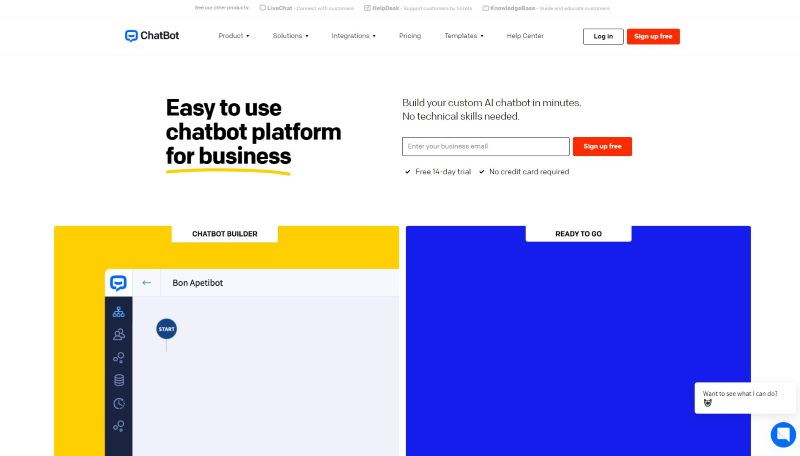 These days customers want their questions to be answered as fast as possible. ChatBot's advanced AI robot helps you save yours and yours's agent's time by answering repeated questions on its own. Not only this, sometimes it searches your website for the best answer.
Key Features:
Free and ready to use templates for chatbox available
They provide you and your agent's training so that you can provide the best support to your customers
They keep all your's and your's agents data secured with SSL encryption
Get free trial without any credit card details
24/7 Technical Support
Pricing:
Starter: $50/mo
Team: $149/mo
Business: $499/mo
Enterprise: Quote-based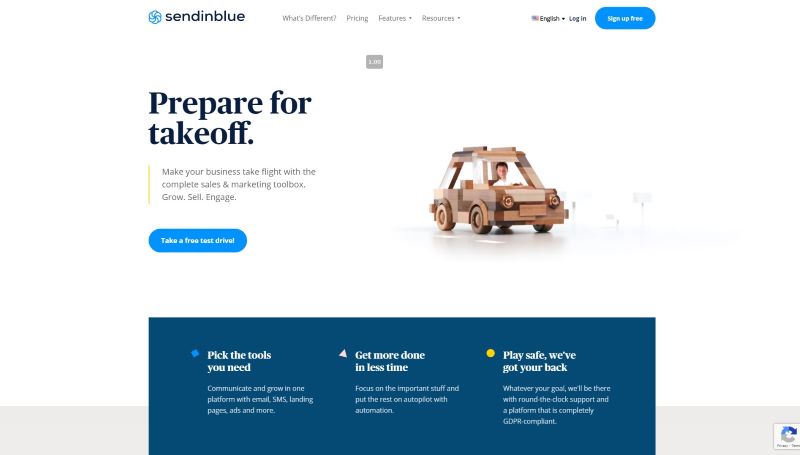 SendinBlue helps you with overall marketing with email marketing, SMS marketing, and live chats on your website. Some surveys show that email marketing helps you make your visitors loyal toward your website.
Key Features:
Up to 1 million emails/months
Phone support
Email support
No daily support limit
Dedicated IP included
Pricing:
Free: $0/mo
Lite: $25/mo
Premium: $66/mo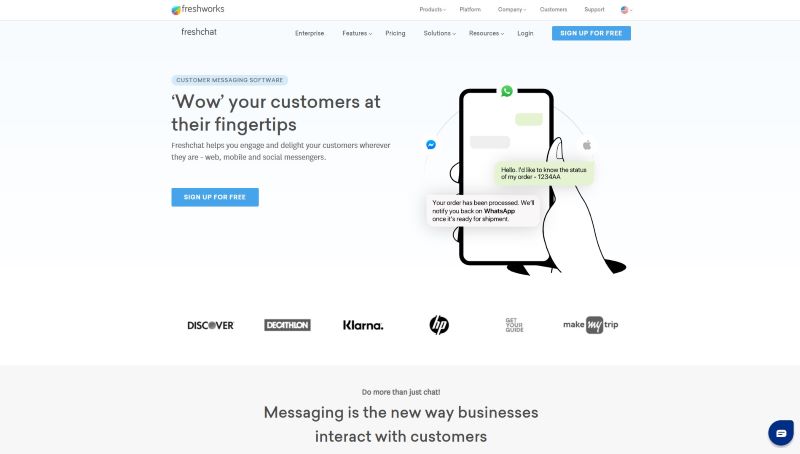 FreshChat helps you communicate with your customers in any language. Their Multilingual support translates chat in real-time so that language doesn't become a barrier between you and your customers.
Key Features:
Get 21 days trial without any credit card details
Integrate with Facebook Messengers
Live translation
Chatbots available
2 Factor authentication for safe and secure chat
Pricing:
Sprout: $0/mo
Blossom: $15/mo
Garden: $29/mo
Estate: $45/mo
Forest: $69/mo
Most people face problems with the complicated layouts of chatboxes and their experiences, but iAdvize's chat box gives you an experience similar to WhatsApp and Facebook messenger. This easy to use the chatbox layout helps in increasing the retention time of your customers.
Key Features:
24/7 Technical support
Mobile apps available
Screen Sharing
Third-Party Integration
Website Visitor Tracking
Pricing:
Quote-based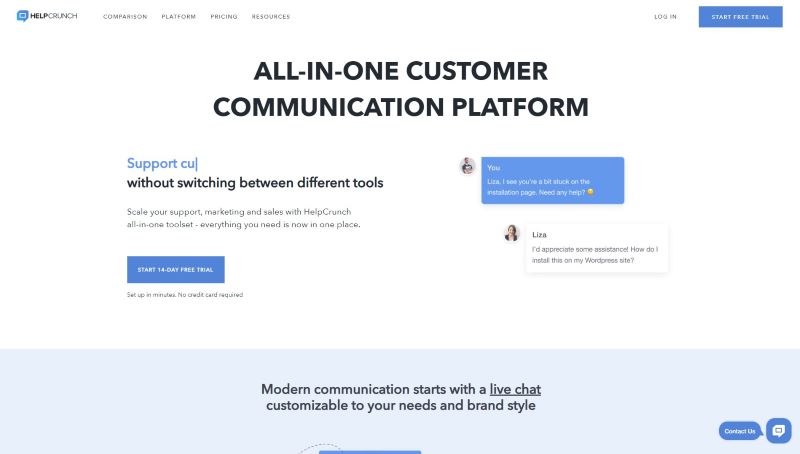 People face many problems in migrating from your existing live chat software to the new live chat software. HelpCrunch solves this problem by transferring all your data in less than a minute.
Key Features:
Add 20+ team members
5+ chat widgets
Customize chat box according to your choice
14 days trials without any credit card details
Pricing:
Standard: $12/mo/agent
Premium: $20/mo/agent
Enterprise: Quote-Based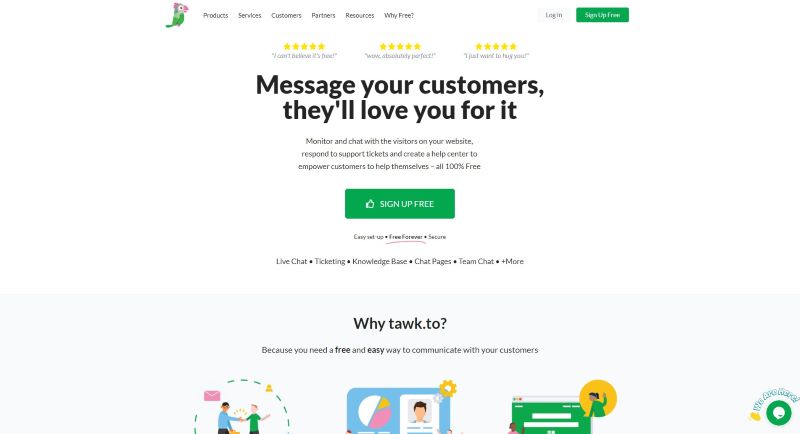 Monitor your chat performance in real-time with the help of various data and many graphs, which helps you analyze your visitor's activity.
Key Features:
Screen Sharing
24/7 Technical Support
Third-Party Integration
Chatbot available
Pricing:
It's free of cost.
Benefits of Live Chat [Infographic]
That's a Wrap!
Quickly answering your visitor's questions will increase their loyalty towards your website and will help you to build some loyal visitors.
From the above list, you can find the perfect live chat software according to your needs.
We have created this list after analyzing many different aspects, such as customer reviews, pricing, credibility, features, and many more.
Go through the key features of every software and pick one which is most suitable for you.
So, which one of these best live chat softwares are you planning to apply on your website? Let us know in the comment section below!
You might also want to read: What Is Affiliate Marketing And Does It Work For My Business